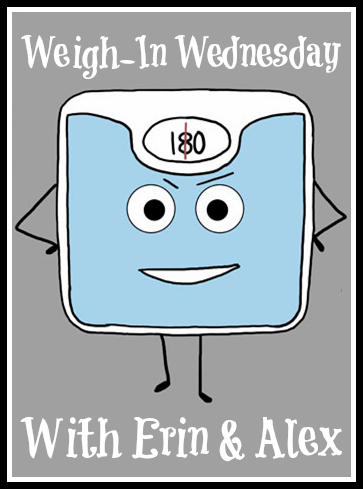 Happy first day of spring readers!! It definitely doesn't feel like spring here in central Wisconsin, 4 degrees but with the wind chill it feels like -13 degrees. Yikes, better make sure I bundle up today.
In other news, today is Weigh-In Wednesday so I am linking up with Erin and Alex to share my weigh in.
I was pleasantly surprised when my little Wii Fit person was a tiny bit smaller than last week.
Initial Starting Weight (highest recorded weight): 205
January Starting Weight: 202.8
Last Week's Weigh In (3/13/13): 205.7
That's a loss of 1.1 pounds from last week. And I'm going to be honest, I didn't work for it. The only thing different was I didn't return from a week long vacation where I truly at what I wanted when I wanted and had no concern for calorie counts of my meals.
I'd say my body has adjusted back to my normal bad eating habits. Like I said, I didn't work for that loss so that means I ate whatever and drank however many sodas I wanted since last week Wednesday.
I was even more surprised to see a loss considering my Aunt Flo is visiting this week but a loss is a loss, right?
I will need to be getting back to the gym in order to continue making progress and getting myself out of the 200's for good. I am sick of losing and gaining the same 5 pounds over and over. I want to say goodbye to the 200's and never look back. It's been a while since I was below 200 and I cannot wait to do it again.
The fact that I ordered compression capris from Old Navy and they're not at my house yet is being used as a way to rationalize the fact that I haven't gone to the gym yet since I've been home from Maryland.
Plain and simple, I need to get back to the gym and shouldn't be waiting for new pants to do it. But even knowing that it's what I'm going to do. So next week will begin my workouts again.
Food is next on my list to tackle but I'm not going to put that off until next week. I need to start really tracking my eats to watch how many calories I'm consuming. All the workouts in the world will not help me lose weight if I am still stuffing my face with food.
Well, to sum it up this week was a surprise loss on the scale which is being accredited to my body adjusting to not being fed like it's on vacation. Nutrition and gym time will start playing a key factor in my weight loss effort in the near future.
Happy Hump Day friends! We're almost through the worst of the week!