Good morning readers! It's the weekend which I am super stoked about just because it means I can enjoy some time at home getting stuff done and reading a good book.
Yesterday was my bumming around day. I had an eye appointment yesterday and then I did some shopping. Today I have no plans other than to do some laundry, paint my nails, start a new book, and maybe do some cleaning.
The wonderful Allie, Jenn, and Ricci host the lovely Weekly What? link up so you can easily find all of my posts from the week with a short little blurb about the post.
Hopefully this makes life easier for all of you weekend blog readers.
It's been a while since I posted on a Monday but I decided I wanted to share my
Weekend Shenanigans with you.
My shenanigans included Fish Fry Friday, Garlic & Herb Beer Bread, a night out, and watching the ACMs.
I almost didn't weigh in because I had a bad feeling about how it would go but I stuck it out and got on the scale.
Weight loss doesn't last without some effort.
You can read about how my weight loss didn't stick around in this week's Weigh-In Wednesday post.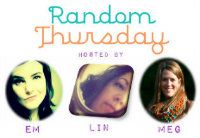 Every week we have our ups and downs and now thanks to Allie and Brin we have a place to share those ups (peaks) and downs (pits) to receive some encouragement and congratulations on them!
You can read this week's Pit & Peak post here.
Hope you all have a great weekend!