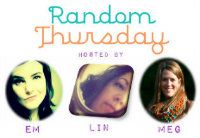 It's that time again, Random Thursday!
This week's topic is the top 5 worst TV shows.
Not going to lie I Googled "Top 5 Worst TV Shows" because I couldn't think of shows I thought were horrible off the top of my head.  So I'm just going to pick 5 shows to comment on that were found on Wikipedia as some of the worst TV shows.
The #1 worst show I think based on the short description alone is All My Babies' Momas.  Yeah, doesn't that sound horrible based on the title alone?  Thankfully the show never made it to air!  It was to be a reality show starring Shawty Lo (never heard of him) and showcasing his lifestyle as the father of 11 children fathered by 10 different women.  Makes me cringe just thinking about it.  Again, thankfully the show never made it to air so the world was spared from this!
I'm not going to say whether I think this show is good or bad because 1) I have never watched it myself and 2) I know some of you do watch the show and I'm not up for upsetting people with an opinion of something I have never watched.  The show?  Here Comes Honey Boo Boo is one of those shows I have heard a lot of people watch and find enjoyment in it.  Not much I can say about it because I personally have not watched an episode.  If it's your thing than go for it, doesn't hurt me any!  Who knows, I may watch it some day and like it.
Next up is Jersey Shore.  Not going to lie, I watched multiple seasons of this show.  Even set up my DVR to record it should I not be around to see it.  I think this show falls in the same category as Buckwild which is in its first season on MTV.  Those that live in New Jersey and are Italian may take offense to how poorly they are being portrayed.  I think know the same thing is happening with Buckwild, just ask Emily over at Living & Learning
.My Super Sweet 16 is another one of those MTV shows that I will admit I watched.  Honestly, watching this show made me roll my eyes and scoff at the "problems" of these teenagers revolving around their sweet 16 birthday party.  To me these teenagers were already spoiled and thought they were king/queen of the world and having a portion of their lives filmed making them "famous" only added fuel to the fire.
Finally, A Shot at Love with Tila Tequila once again, another show (VH1 I think?) I watched for some strange reason.  Basically a trashy version of The Bachelor/Bachelorette.  I don't know what more to say about this one other than I can't believe I watched it!
Talk to me...
What do you think one of the worst TV shows is?
Next week's Random Thursday topic is embarrassing celeb crushes.  Be sure to stop by to see who mine are!