I decided to jump on this link up wagon after seeing Meaghan's vlog version this morning (while I was putting off getting out of bed).  I sometimes have a hard time coming up with things to post about because I over think what my readers (hellooooo out there) want to see from me.  I am finding I am really liking the link ups because they help take some of the guess work out of posting.  And you get to meet new bloggers and you get new viewers thanks to the link up.
So here I go, jumping on the Random Thursday link up wagon!
This week is "What's in my purse..." and I'm taking a cue from Meaghan and am going to do a vlog version of it.  This is my first (eeek!) so be kind to me please.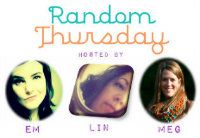 Hope you enjoyed my first vlog!  So sorry I took forever to do that, 15 minutes is a long time...
Be sure to watch for my next Random Thursday post next week.