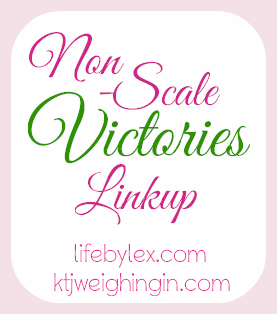 I'm linking up again with KTJ and Lex to recognize my non-scale victories.  Katie does a great job of explaining them so I'm going to borrow what she wrote about them.
"Too many of us base our success just on the number we see on the scale, but there is so much more to it! All the little changes we make are helping us make a healthier lifestyle. Whether you lost weight this week or not, let's celebrate your non-scale victories! So whether you said no to that birthday cake in the office, ran a 5k, or tracked your food every day this week. . . it is time to celebrate!"
So let's get to it!
Pepsi Next, you are my friend!
If you know me in real life you know I love me some Mountain Dew.  But let's be honest 170 calories in one can is a lot of empty calories that I'm not getting any benefit from.  I have been doing a really great job of not drinking Mountain Dew during the week, and limiting myself to just one can of soda per day.  Not going to lie, I am addicted to the caffeine.  And not because I need the pick-me-up it offers most people but simply because it's been a part of my diet for so long I get a headache when I don't have it.  Seriously, I can drink Mountain Dew right before bed and have no problem falling asleep!
Cutting soda cold turkey is HARD!  So rather than trying to do that I've just made the change to a better alternative.  Pepsi Next is only 60 calories per can and has lower sodium and sugar content than Mountain Dew (or other regular sodas).  I'm not saying it is healthy because it's not, but it is better than Mountain Dew for the most part.  Thanks to my new friend I can still get my daily dose of caffeine but with a little less of everything else.
I see this as a stepping stone to cutting back on my weekly soda intake even more, like less than one a day.
Talk to me...
What is one of your non-scale victories for the week?